So I'd sort of accepted my hair color until I went onto that taaz.com which is an awesome site, but it allowed me to try on some other colors and realize that, dude, cooler tones look much better on me.
Okay, so what's my hair been through?
Virgin hair is a 7N.
February: Dyed hair with ION 5R and it was really pretty.
March: But as it faded, I kinda liked the lighter color so I did the regrowth with 7RC and I may have done the whole head once with it. I wasn't paying much attention to it.
*Sorry this picture is so big, how do you reduce its size without just uploading another one?
June: Bored and dissatisfied with life and tired of the upkeep already, I went used 30 developer and 7A on it and was reasonably happy with the result, but not using some sort of color remover on it meant I put unred on it every day and the red definitely showed through really quickly. I know, oops for real then.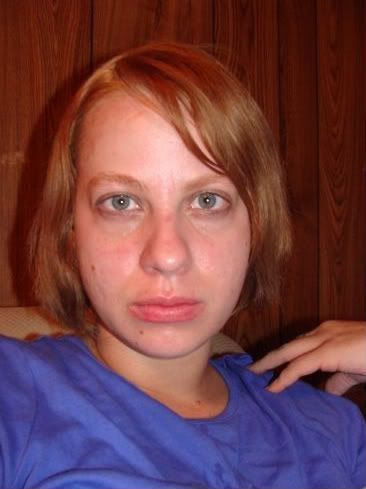 September: Now the orange is seriously showing through and I'm thinking I may need to do some serious color correcting. I tried some highlights to break it up last week and they actually took nicely. I also tried that Born Blonde toner and while it helped a little, it didn't really cut down any of the oranginess. On the bright side, I'm back in school and now unemployed so I don't have to worry about a boss saying something about my weird colored hair. My hair is fairly healthy despite the coloring. It's not dry or brittle so I reckon I can mess with it some more before it all falls out.
So the plan:
Use Ion Effective Care Treatment Tonight
Use Colorful Neutral Protein Filler from Sallys tomorrow.
Use Color Oops (since I have so much color build up, should I use it twice?) I've used color oops before on red hair and I know my hair is going to be seriously orange afterward.
Use Wella Cream Lightener.
Use Colorful #3 Platinum Protein Color Filler
Use Biotera Reconstructing Conditioner
Wait until the next day and use BTZ Last Call Hair Masque
Two days later use Cholestrol conditioner and again the day before bleaching.
Wait til next week and repeat until my hair gets to a less orangy pale yellow stage than color hair with 7A and 10 developer.
Okay, so what do ya'll reckon. Will this cancel out the red well enough? Will this work? Thanks for any suggestions...