Dark coarse Asian hair naturally has a strong underlying pigment of a strong red/orange which is hard to control & using 30vol on the roots(the hot-zone) with a red based brown color would amplify the brassy undertones. The hair from scalp to about an inch-inch.5 is the hot zone meaning the heat from your head makes any color process more dramatically than the rest of the hair resulting in whats called "hot-root"
Usually a stylist would use a 20vol mixture on the roots with a 30vol mixture on the remaining hair.
Sounds like the wrong ash based tone was used as blue is to neutralise orange/copper & green is for rich reds-violets.
I always amp up the ash/blue in my formulas on my Asian clients especially when target color is in the lv.6-8 range because of the strong orange/red pull naturally.
The level of the stripped orangy color now should be level matched with its natural color level to determine what your target base color level should be for best health of the hair.
I'm guessing from this chart, your sitting somewhere between a lv.5-7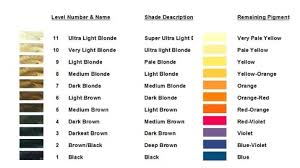 A lv.8 color seems an odd choice for a base color for you. A lv.6-7 or a 6.5 would be a better base color + a little blue/ash in the formula to a lv6-7N as N is natural & has a natural ash balance already. 30 vol would be fine as your natural is a lv.3-4 if the heat was not applied & you were left to process @ room temp with a loose plastic cap over it would be best or a lo-heat session for 10 mins only.Unfortunately alot of stylists cut service times lower by rushing the processing of chemicals to free up time for more bookings.
I would go for a lv.6 root/base & apply a 20vol+ bleach to ends sweeping up in to the 6 base about 1/3 of the length ends/bleach:2/3 length our base color, applied after a 10 min lo-heat on base color & process @ room temp up to another 20-30 mins for the ombre effect.
The bleached ends can be toned after lifted to a nice lv8N
I think the lv6 transitioning to a 8 would be nice....lv8 looks similar to the lighter pieces of your hair color in the pic with the pink phone.
I would look for a new stylist that knows more about Asian hair as it is much different from caucasian hair as is afro hair when chemical services are needed, all hair types by genetics are very different to work with from 1 another & require specific knowledge.
Hope this helps...goodluck!


Edited by vividamnesia - November 19 2014 at 10:34am