Which Pomade?

Printed From: HairBoutique.com
Category: 360 Waves
Forum Name: Men's 360 Waves Archives
Forum Description: Archive of the old Men's 360 Waves Forum
URL: https://talk.hairboutique.com/forum_posts.asp?TID=3990
Printed Date: October 04 2022 at 2:10am


Topic: Which Pomade?
---
Posted By: fieldsb2004
Subject: Which Pomade?
Date Posted: January 23 2005 at 8:38pm
---
Aye, i'm taking some pics tomorrow with my gf and she wants my waves to be shiny and I havent used pomade in a month or so. Can someone tell me what I need to use. I have a lot of stuff. But i've just been using water.

Appreciate It.

-------------
Elda B
"Holdin It Down In The Aug"
---
Replies:
---
Posted By: Cardinal
Date Posted: January 23 2005 at 8:46pm
---

fieldsb2004 wrote:

Aye, i'm taking some pics tomorrow with my gf and she wants my waves to be shiny and I havent used pomade in a month or so. Can someone tell me what I need to use. I have a lot of stuff. But i've just been using water.

Appreciate It.



water is the key man....take a look at my pics and see wut u think but if i were u if u don't wanna waste pomade...just spray some oil sheen on ur head...or use pink otion...unless ur hair is really thick...if so then use dax

-------------


http://community.webshots.com/user/cardinal04 - http://community.webshots.com/user/cardinal04
---
Posted By: G_LOC
Date Posted: January 23 2005 at 9:01pm
---
Use oil sheen, or ICE POMADE that **** works the best.

-------------

---
Posted By: and1mildsauce
Date Posted: January 24 2005 at 12:20am
---
U AND UR IC POMADE.. WTF.. LETS SEE UR GEAR N STEP UP.. I KN0 I AINT GOT WAVES BUT STILL.. U BRAGGIN ON EM.. WEN U GONNA DROP IT TILL U SHOW IT?

-------------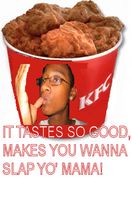 ---
Posted By: deadbatz
Date Posted: January 24 2005 at 10:09am
---
360 is good..... and some pink lotion...

-------------
New WAve Forum

http://dreamteam360.net/forums/index.php?act=idx - http://dreamteam360.net/forums/index.php?act=idx
---