How to even out my wave pattern? *pic

Printed From: HairBoutique.com
Category: 360 Waves
Forum Name: Men's 360 Waves Archives
Forum Description: Archive of the old Men's 360 Waves Forum
URL: https://talk.hairboutique.com/forum_posts.asp?TID=4013
Printed Date: November 26 2022 at 11:13am


Topic: How to even out my wave pattern? *pic
---
Posted By: BlahUghBlah
Subject: How to even out my wave pattern? *pic
Date Posted: January 24 2005 at 10:12pm
---
look at this pic how do i get my waves to go straight across my head and not zig zag or whatever its doing? I tried brushing it more evenly but it still looks like this, so do i need a bigger brush or something?


---
Replies:
---
Posted By: G_LOC
Date Posted: January 24 2005 at 10:14pm
---
Just keep brushing but maybe you need to brush in an angle. your sides you should brush down into a circle, and your back of the head brush down and the top you should just keep brushing it forward, and you may need some pomade to better shape your waves.

-------------

---
Posted By: bigswayne713
Date Posted: January 24 2005 at 10:16pm
---
my ish was like dat jus keep brushin and it will even out on its own

-------------
www.sosouth.com


JOIN THA STREET TEAM!


---
Posted By: 1freshnicca
Date Posted: January 24 2005 at 11:20pm
---
I aint wanna start a new thread bout this cuz theres been like 15 but that bald spot u get from brushin someone said ta brush ya back diagonally to keep that from happenin..wtf does dat mean...could someone explain that plz, n will it mess up my pattern??? a picture mite help or sumtin

-------------
fresh
"ya da trigga jus might get squeezed, n tha slugs will skip ova ya waves just like jet skiz"

---
Posted By: MenaceIISociety
Date Posted: January 24 2005 at 11:52pm
---

bigswayne713 wrote:

my ish was like dat jus keep brushin and it will even out on its own




-------------

---
Posted By: and1mildsauce
Date Posted: January 24 2005 at 11:54pm
---
MY MUG WAS LIKETHAT.. THEN I GOT A CUZ N LOST IT ALL.. UR MUS IS ALRIGHT.. I PUT BABY OIL IN MY HAIR WEN IT WAS LIKE THAT.. N MY **** WAS HELLA FIRE... HOLLAH FRON WIT AN UPDATE



-------------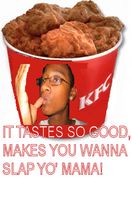 ---