this is where you post up ways to get that fly look for cheap, be it tips for bargain hunting, actual price items, substituets, knock offs and wear to them them etc
ill start
fitted hats- usually the cheapest is 31.99 for mlb, shoes stores like finishline and footlocker have no name fitteds that look pretty cool(money all over, city skyline, area codes etc) so does them flrea markets
macy's and dillards got ecko, sean jean, rocawear fittteds that go on sale after a month or 2 of sittin in the store ( i seen one for 5 dollas)
tall tees
finish line got 4 for 20, in almost ery color
footlocker got normal tees 5 for 20
JUNE FUKIN BLOWOUT SALE!!!!
idk about all other citites, but in san antonio tx, shyt goes on sale erywhere
it should be same for all other cities too, cause its a back to school clearout
SHOES- 20 jordans, wades, k swiss, adidas, basically erything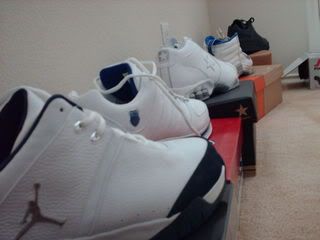 I REPEAT ERYTHING IN THIS PIC WAS $20 EACH!
team reign low jordans, rinzler limited k-swiss, white wades, random nikes, and black nike sumthins
you missed out this year, but after christmas(or in november i cant remeber) they do it again
also, dillards and macys does this around the same time too
flea market got 20 denim jeans, 15 dolla plaid shorts, 10 dolla brand name(south pole, etc) and they got some cool polos in there 2
2 for 20 poloes also @ footlocker and other shoes stores
ross has some good name brand ish for cheap
white and navy airforces high for 30!
name brand tees, pants, etc
i know theres more shyt out there, put yo bargains in here, and your detailed shoppin tips here too.