PLEASE HELP!! touching roots w/ extension

Printed From: HairBoutique.com
Category: Hair Extension Topics
Forum Name: Hair Extensions
Forum Description: Hair Extensions can be the quick fix for short hair.
URL: https://talk.hairboutique.com/forum_posts.asp?TID=30249
Printed Date: October 23 2021 at 10:21am


Topic: PLEASE HELP!! touching roots w/ extension
---
Posted By: rajackson
Subject: PLEASE HELP!! touching roots w/ extension
Date Posted: April 27 2005 at 3:03pm
---
Hello everyone. I am considering getting fusion extensions, although my major problem is that I have to touch up my dark roots every 4-5 weeks. I have platinum blonde hair. Minutes after my color is washed out I have a toner put allover my head (to tone the yellow, b/c my hair is naturally dark) that I ABSOLUTELY have to have. The woman who might do my extensions just told me to never have the bleach touch the glue part of the fusions( I relize this would kinda be hard and would take a little extra time to put the bleach on my hair)- I understand this, but I never asked her about the toner and I HAVE to have the toner on. Is it even safe to get extensions if I have to bleach my roots all the time? Would the toner screw it up? Should I even get extensions with all the conditions that I have to put my hair through? I don't want to be left with broken hair, when I get them taken out!! Someone please help. Thanks so much.
---
Replies:
---
Posted By: mochachip
Date Posted: April 27 2005 at 3:13pm
---
What kind of hair are planning on having put it with the fusion?
It will make a difference

---
Posted By: Jenny_RR
Date Posted: April 27 2005 at 6:14pm
---
Hmm...well, I think it would be virtually impossible to bleach and tone your roots without getting the bleach and toner on the bonds, too. I assume she's said you can't get the bleach on the bonds because it will cause slipping? I bleached my hair (but didn't tone) when I had prebonded fusion (GLs, Cinderella), and I didn't have much slipping, but hand fusion is apt to shed anyway, so perhaps the bleach would compromise the bonds.

Generally, I wouldn't recommend fusion for someone who bleaches their hair to platinum anyway, unless you have very strong hair to begin with, because fusion is not gentle in any way. I bleach to platinum all the time, but I have pinchbraids, which are a little different.

Maybe Kristin can help with this. She's pretty much platinum and she wears fusion, so maybe she's got some advice. It would help if you knew the brand method, as well as the brand of hair.

Good luck! :)



---
Posted By: TanglesRC
Date Posted: April 27 2005 at 11:40pm
---
Hello,
i dont think the toner would bother the fusion, toner had very low developer like a 5 % as apposed to 20-30 %
tell your stylist when she does the highlites to weave and not slice for the sections this way to help aviod the fusion.
Depending on how fast your hair grows, waiting for 5 weeks of growth, your stylist should have enought regrowth avail as to not overlap onto the fusion. The toner will not do any damage,
i do not do fusion however i do shrinkies and locs and have never had a prob with color or toner on any of my clients. Just ask her to PLEASE be careful, i am sure she will.
concerning conditioners, as with any extension, keep conditioners off the roots, the ends are fine with conditioners.
---
Posted By: rajackson
Date Posted: April 28 2005 at 6:26am
---
Thanks for all the posts :)
First of all, what exactly are pinch braids and would they be better on my hair than the fusion??
Second, how do I find out the brand of hair?? The fusion they are going to do is like cold/hot
I really don't like the way weaving looks on me b/c of the contrast with brown and platinum blonde, I just like the "clean" look. could she maybe put foil between the rows, so that excess bleach wouldn't get on a fusion strand and burn it off??
I am just learning about all of this, so bear with me

Thanks for all of your help! :)
---
Posted By: TanglesRC
Date Posted: April 28 2005 at 1:04pm
---
yes she can put foil between the rows, that would be even eaiser,
to find out the type of hair and method she does, ask her, a good extensionist wants to educate their clients.
pinchbraids whould be eaiser then fusion, Jenny is an expert on that one.
---
Posted By: rajackson
Date Posted: April 28 2005 at 5:17pm
---
I don't exactly know the hair- except that it comes from India.
The method was going to be knda like great lengths, but she creates her own bond. Does this help a little?
Would this still be ok, or maybe pinch braids? Where do I find a pinch braids stylist in ohio?
Many many thanks =)
---
Posted By: Gina E
Date Posted: April 28 2005 at 5:49pm
---
Raja...
I will say, You should be able to get the top section and around your hairline touched up. The extensions won't go clear up to there. Otherwise, you will need to wait 8-12(life of the extensions) to do a full hilite as opposed to 4-6 like you're used to. IMO...trying to pick up the sections attached with bonds will be too thick and not allowing for an even "lightness" However, someone may challenge this, but if you were my client...that would be my advice.
---
Posted By: Jenny_RR
Date Posted: April 28 2005 at 6:06pm
---
These are all good tips. I think if you got someone to help you touch up your hair, that would help a lot. I always have difficulty being precise when doing my own roots; I have a lot more luck with an extra set of hands.

In terms of pinchbraids, they're a strand-by-strand method that doesn't use any glue or metal (it's also known as the Hairpolice, or string, method). The extensions are braided in individually, as opposed to a weave, and a bit of string is incorporated to secure the braid. I personally love the method because it's very nondamaging, never slips, and can be used with any kind of hair. The one downside, imo, is that they're potentially not as invisible as other kinds of methods (though it really depends on your hair.

In general, I'm not a big fan of fusion because I think it can be damaging (especially on hair that is already compromised) and, with hand fusion, there can be a lot of shedding. That said, a lot of people have great success with fusion, so again, it depends largely on your hair type.

:)

---
Posted By: Jenny_RR
Date Posted: April 28 2005 at 6:33pm
---
By the way, if this helps, here's a picture that shows what the pinchbraid connections look like: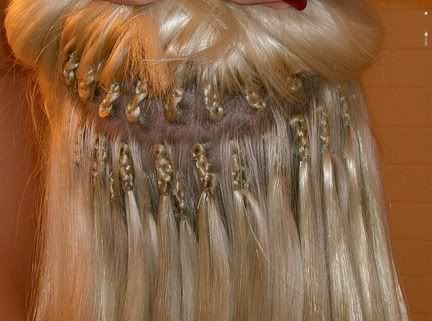 ---
Posted By: Chris H.
Date Posted: April 28 2005 at 10:08pm
---
I went to the class with Gina and I learned the "undetectable strand" method. It is very small strands of hair, and very tedious. I'm wondering if pinchbraids are similar to that method, or just exactly how they're put. I just looked at the pic posted from by Jenny and it looks very similar, just larger. Also, I thought I read something about a string.
---