Hello Bambilee,
Do you ever wear hair claws? You could use claws to pull your hair up without being a pony, neat enough for work, clean, cute, comfy and without a hairstyle too aged for you.
The added bonus of claws is that you can put your hair up when it is fresh out of the shower, then later - after work, (assuming you go out afterwards) you could drop the claws, shake your hair out and it will be shower fresh, especially if you have to work around food. Oh, do I remember those days. I would attend a party after work only to find the men were attracted to me for the smell of pizza on my clothes. LOL.
Either damp or dry, pull your hair back as if you were going to make a pony, then begin twisting the handful of hair. Not too tight, just keep going. When you have a good amount twisted, begin wrapping this 'rope' of hair around what has become a 'hub' on the back of your head. The longer your hair is, the lower you should initiate this 'hub'.
Continue twisting and wrapping this hair around and around the hub until you run out of hair, then tuck the ends under the cinnamon roll which has formed. If it ends up looking like a knob sticking out of the back of your head, you can fold the roll upwards and even carefully manipulate the twists to separate. Lay one or two rolls, or all of them, on top of the hub and secure on both sides with a small, medium or large claw - depending on how much hair you have.
You can also achieve a Figure Eight Bun with chopsticks, which come in a multitude of colors and designs, sure to fetch plenty of compliments in the cafe.
Another option is to create a Bee Butt / Spiral Bun lower on your neck, then secure with your choice of hair doodle with or without a chopstick added. This picture is a couple years old now, but gives an idea of what I'm trying to explain: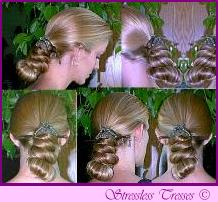 http://www.wuvie.net/SPIRALBUNLARGE.JPG - http://www.wuvie.net/SPIRALBUNLARGE.JPG (larger view)
Experiment, have fun, and come back often to let us know which styles you had luck with.

Karen Marie



-------------
Birds of a feather flock together & then crap on your car.
___________

If you can't be kind, at least have the decency to be vague.
____________

Member since 2000, not reg. until 2005