Getting the red out of brown

Printed From: HairBoutique.com
Category: Hair Talk
Forum Name: Hair Color
Forum Description: The tricks and tribulations of changing your hair color
URL: https://talk.hairboutique.com/forum_posts.asp?TID=37875
Printed Date: June 24 2018 at 3:42am


Topic: Getting the red out of brown
---
Posted By: pasdebourre
Subject: Getting the red out of brown
Date Posted: December 08 2005 at 9:16pm
---
My natural hair color is dark brown. The tone confuses me because the roots seem ash-toned, but the older longer hair can take on a slight gold or red tone when exposed to the sun and chemicals. (I was golden blonde as a child.) Anyway, when I began to grow gray three years ago, I started using Robert Craig permanent hair color to cover the gray. This was on virgin hair. I struggled to get the right tone, going through chocolate brown, golden browns, neutral browns, and ash browns over the years. My hair always looked too dark and matte, or the colored gray always was brassy or reddish or goldish. When it was too dark a couple times, I used ColorFix, which worked great. Usually I would re-color the gray roots only every two to three weeks, but every four months or so I would refresh the entire head of hair.

Today I asked Robert Craig how to get rid of the darned red and brassiness in the grays. I also asked how to improve the flatness of the color. The wonderful Robert Craig color specialist said that sometimes when you put ash tones over golden tones, which I have done over the years, it can pull red. She also said highlights would be the only way to counteract that density of color.

I decided to start by trying a different brand of allover permanent color, and today colored my entire head with LOreal Excellence in Light Ash Brown, curious as to whether the Robert Craig color was the culprit for the brassy tones, and hoping for either a better neutral or ash tone. I wanted to follow this with highlights.

It covered the grays beautifully, but I've still got reddish tones. So my question is how do I get rid of these reddish or brassy tones before moving on to highlights?

Do I use ColorFix followed by an allover color, and what should that color be?

Or can I apply an allover toner? The colorist recommended a combination of a Robert Craig ash brown and light ash blonde to tone down the red in the colored gray hair. Would that formula work to tone down the allover reddish/brassy tones?

---
Replies:
---
Posted By: Rebekah
Date Posted: December 08 2005 at 10:55pm
---
---
Posted By: pasdebourre
Date Posted: December 09 2005 at 10:59am
---
These were taken with a flash, but on my monitor the color is pretty true to real life. Where the hair is lighter is colored grey. This is on the top of my head. The color is too dark around my face. Since my skin is pale olive/yellow/sallow, the contrast is harsh. That's why I want to do highlights instead of an overall lift. But I'd like the base color to be cooler first.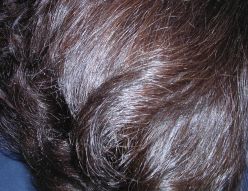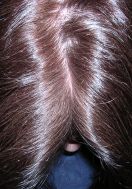 ---
Posted By: FunnyGirl
Date Posted: December 10 2005 at 11:49am
---
I have the exact same problem, everything I put on my hair turns out reddish, the only difference is that I don't have any gray hairs yet (I'm 20). Basically, your best bet is to use ash colors, but if you're anything like me, it won't work either (unless of course you bleach then tone, but that's another story). I died my hair yesterday, I used a 6.1 color (dark ash blonde) to my brown hair (a number 4) and added about 10 ml of an ash intensifier and I'm sad to report that it did not work. In certain lightings my hair does look just brown, but when you see the reflex, you see orange, and like you, my skin is olive/yellow/pinkish, so it so does not look right. My hair looks pretty much like yours except it's a bit more orange. There's this trick a color technician tought me, which I intend to try in a few days. It goes as follows: Get a platinum color (usually a 12.1 or 12.11) or an ash intensifier. Wet your hair and massage (about a dime size, but if you feel you need more you can add) only the color from the tube (do not mix with the oxidizer), the excess of red should wash off as you massage your hair, but if you feel you still want to tone it down further you can leave it on your hair for 5-10 minutes. This also works to rid of excess green, orange and yellow. I really don't know if it works yet, but like I said, I'm trying it in a few days and I'll let everyone know if it works. Of course, if it doesn't that means I'm going to start with my strand tests again until I find a nice color that'll tone down the orange. I'm thinking a 5 (which is a light neutral brown) or a 5.1 (light ash brown), with a 10 volume oxidizer, since I don't think I'll need to lift color.

Good luck, and let me know how it turns out, I'll let you guys knows if the trick worked in a few days.

Oh! I forgot to add, sometimes lighter hair color (in your case gray, but it could be for blondes trying to go darker as well), needs a base color first so that the color will fix in the hair better, and also last longer. Say you want a light ash brown (6.1) on your hair, you would want to mix a light neutral brown (6) in a 1:1 ratio. So if you use one tube of dye for your hair, use half of each color.



-------------
¤·· Fµnn¥ Gïr£ ··¤
---
Posted By: pasdebourre
Date Posted: December 10 2005 at 12:22pm
---
Thanks so much for the lengthy response and ideas. It makes me feel a bit better to know that this is more of a universal problem with working with dark brown hair, not the brand of hair color. I've emailed the Robert Craig color specialist to see if she can recommend a formula for me to apply to all my hair to reduce the red. She had recommended a combination of half RC #2 (ash brown) and half RC #16 (light ash blonde) to tone my highlights (once I do them). But I'd like to get the base color correct first. She may recommend I use ColorFix a couple times to get out as much of the dye (and red) as possible before re-coloring my whole head with the ash shades. It could be that because I put ash over gold hair color it pulled red.

RC hair color is permanent but totally free of ammonia, peroxide and alcohol. I've used it because it's so gentle -- you can use it over and over without damaging your hair. It's #1 in Allure magazine's hair color recommendations, which is where I first heard about it. I think, but I am not sure, it's similar to something called Naturetint that is sold at Whole Foods. It's not a henna, vegetable-based, or metallic dye. You have to buy it from the RC website at www.robertcraig.com. The only think I don't like is that they do not make a light ash brown -- that's why she recommended the formula for me.

I'll let you know what develops (no pun intended).

---
Posted By: Rebekah
Date Posted: December 10 2005 at 2:11pm
---
I really think that the base color you have looks pretty cool to me.
Let me just say that L'Oreal makes warm hair warmer! I don't know why but it does. You might want to try using a Miss Clairol color next time.
http://www.clairolpro.com/dispensary/swatches/mc_swatches.html - http://www.clairolpro.com/dispensary/swatches/mc_swatches.ht ml
Try a combination of 57D and 32D, half and half with 20 vol. STRAND TEST because I don't know what this will look like on your hair. Don't use the Chestnut because I hear it has a lot of RED in it.
Good luck!
---
Posted By: pasdebourre
Date Posted: December 11 2005 at 9:32am
---
Thanks Rebekah. I'm headed to Sally's to get some Colorfix. The base color is pretty, but it makes my skin look more sallow that it already is. And the colored gray looks rusty under flourescent lights -- not very attractive!

I'm so excited to have found this board. I'll be back after my Colorfix treatment.

---
Posted By: Want2b6n
Date Posted: December 11 2005 at 1:40pm
---
I also have the same problem. I have been using hair dyes (both permanent and nonpermanent) for about 15 years now and I have never gotten away from the red. Now determined, (because of so much gray hair) I am trying different formulas to find the right one. This morning I used Colorfix to lighten the dark hair and I am once again a dark orange/red color (I just used the partial remover technique with shampoo). Tomorrow, I will try to remove some parts and get some highlights and see if I can tone those to an dark ash blonde.
I am a natural 4 ash but I want to be a 6N. I have been applying color for so long that my hair is very dark. I have had some success with bleached highlilghts and tone to a 7 ash (med ash blonde) using Redken Semi permanent, which is a wonderful product. Then, I can get a light brown color but I do not want to bleach my whole head. I was told that color cannot lighten color, so I think that bleach is the only way to go. I will keep an eye on your post to see if someone posts an answer to our redhead problem...
Good luck and keep posting...
---
Posted By: crd17
Date Posted: December 19 2005 at 9:51pm
---
I have dark brown hair, too and have the same problem with reddish undertones. I discovered, after some research, that the alot of the non-professional lines do not have the proper color base to counteract the red/orange tones. To counteract red on a dark brunnette, the goal is to find a hair dye with a blue green base. L'Oreal used to make one, called Mega Cools, but unfortunately discontinued it. None of Robert Craig's dyes have a blue green base, which is probably why you're getting the red. You have to be careful, though, because gray hair will pick up the blue green. In general, if you're 25% gray or less, at least 25% of your formula should contain a color with a neutral base color.
Since you have just colored your hair, I would recommend 1) using a blue/green based shampoo, such as the Cool Brunnettes sold by Bumble and Bumble; or 2) Using a blue green based semi-permanent toner, such as a 50/25/25 mix of SHades EQ 6GN (a green based dye) mixed with 25% clear gloss and 25% 6n (Strand test first).
The shampoo is probably the most gentle way to go. You can get the shampooo at any hair salon that uses Bumble and Bumble.
Hope this helps.
---
Posted By: pasdebourre
Date Posted: December 20 2005 at 3:01pm
---
Thanks so MUCH for this advice. Since I last posted I've used ColorFix three times to lift out the dark color. It's much better, although now I'm more of a light reddish brown. The gray retains some of this color, and some of the gray is pure grey (actually white). There's a lot more grey than when I first began coloring 3 years ago

, and I'm toying with whether I like it. If I want to tone or diminish the reddish color I currently have, without darkening or altering my color too much, will your formula or shampoo work? Especially on the colored gray and uncolored gray?

I'm so disappointed to realize that the Craig colors have no true cool base, even though their names imply otherwise. I loved how gentle the formula is, and it covered my grey really well.

---
Posted By: Sallycubed
Date Posted: February 24 2006 at 1:07pm
---
I am following this wiht great interest and hoping that pasdebourre (used to do ballet?) will post a follow up. I have the EXACT same issue. I also dealt with the colourist at RC and she also recommended a mix of the light ash blonde and hte ash brown. I did it for hte first time today (before I saw this thread!). It has just finished drying.

It's OK, but I still see a lot of red sheen, and the greys at the roots are kind of a dull browny-red, even though I left it on for the full 45 minutes. I should have used hte ColorFix first, as pasdebourre did. Would love to hear what your latest experiences with this are. I have some Herbatint ash colours sitting around, which i bought before I got the Robert Craig, but I'm afraid to use them because I think it was Herbatint (not ash shades) that gave me this undying red sheen in the first place.

Cheers everyone.

---
Posted By: pasdebourre
Date Posted: February 25 2006 at 2:41pm
---
I ended up going to a professional colorist, with the desire to correct back to my natural color and kind of start over. Her first reaction to that request was "your natural color is too dark and harsh for your skin tone," and she convinced me to let her try something with a tad more gold. Although she did not bleach my hair, the resulting color was very pretty and somehow lighter than my natural dark ash brown. A medium golden brown, and she toned the gray to a caramel color. She used a semi-perm Goldwell formula -- I remember something about the number 6 combined with something else. Anyway, unfortunately, within two weeks my dark roots and grey were real obvious, and I don't want to have to go to the colorist every two weeks. So I went back to her and asked if we could try again, this time a shade closer to my natural color. She used the Goldwell 5a (I think), with the 10 level on the gray and 20 level elsewhere. It came out almost black!! And she used permanent color, not semi-perm!!

I assumed we were still using the semi. So now I am stuck with this harsh almost black color. I did run home after the appointment and wash it with Prell, and two weeks later the color intensity has lifted somewhat. I resisted all temptation to use ColorFix and decided to just wait a bit. I'm waiting to see how close this color is to my natural roots, and then I'll try to go forward with either Robert Craig or something from the drug store or Sally's to color the gray roots.

Someone told me that RC always pulls red -- that they do not do ash shades well -- and I hesitate to put anything from RC on my hair again.

I think the solution for me may be to keep applying the dark ash brown, to help hide the dark root growout every two weeks, but to soften the effect with highlights in the front. I've never done them before, but I know I'll have to tone them.

Another option would be to use a bleach/shampoo/conditioner formula in tiny sections around the front, which would lighten this dark brown.

But as I say, for now I'm taking a break. I don't want to fall into the trap of jumping from one thing to the other.

Please do let me now what you decide to do. What is your understanding about the Herbatint, in terms of ash colors?

---
Posted By: Sallycubed
Date Posted: February 26 2006 at 12:56pm
---
Hi there, Pasdebourre (so, I'm dying to know if you used to do ballet) -- The RC (a half and half mixture of ash brown and ash blonde) turned out OK. I can still see something of a burgundy sheen and it's a bit darker than I'd like. I agree that RC, from this agreement, doesn't do ash shades well. but I wanted to do what I could to start moving a bit closer back to my natural colour and to try to tone down the red.
My plan is to use hte other half of the RC stuff I've got left, and then gradually to use up some Herbatint ash shades I've got on hand, an ash chestnut and a light ash chestnut. The former did a bit of good toning down the red from previous non-ash shades I'd used and from a henna mixture I'd tried (bad move for me). Anyway, once I've used up all my products, I'm going to see if I can handle letting the grey grow in. My plan is to rinse it regularly with a sage and rosemary infusion and see if that helps me accommodate to it. I haven't found out anything about Herbatint ash colours, but if and when I do I will be sure to write about them here.
so sorry to hear about your further trials and tribulations.

What a major drag that must have been for you.....
---
Posted By: pasdebourre
Date Posted: February 26 2006 at 2:33pm
---
Sorry, I forgot to address the ballet issue.

Yes, I was once a dancer. Too old and arthritic to continue once I reached my 40s. I danced in a couple small-town ballet companies (voluntarily, you know how that goes) and once I was a lowly extra in a crowd scene with Nureyev!! Didn't dance, just stood there with my mouth open. How about you?

I think your plan is a good one. I don't mind gray hair, I just wish I had more of it and that it looked better against my natural dark brown. I have it on my crown only, so as soon as it grows it's immediately visible. My plan was to keep using semi-perm color so that I could gradually and less obviously return to my gray. But now I've got this very dark perm color on and that forces me down a certain path.

Please do post about your Herbatint experience.

There's a new formula coming on the market, one of the drugstore brands, that promises to try to match the numbering system for color. I'm anxious to hear what others will think of it. I don't know if it's permanent or something else.

Thanks for posting!

---