Hi everyone !


My last install took me another six hours, I was just so tired of it. But happy though! …
I am wearing still 4 oz of Bohyme silky straight, I still love this hair, I know how to take of it and the price tag works for me!...
3 oz are a month and a half old and about 1 oz (the side/front pieces) are 5 and a half month old. I noticed that the main inconvenient with Bohyme weft after 4 months or so is not so much the texture, I can still make it look fantastic, but the fact that the wefts are thining. It's all normal I guess and would probably happen with any kinds of wefts.
My secret to keep this hair look nice is to condition every time I shampoo (which is every single day) and to flat iron the hair after blow drying with my Solia iron.
I still use the thermal cream from L'oreal on damp hair, and I have just bough a new hair drier that I absolutely love, it is a Solia too (when you trust a manufacturer you want to stick to it!), with tourmaline. I bought it on folica and I thought the price was good too. Anyway, this hair drier does make a real difference, it makes my hair smoother and I feel like I don't need to spend that much time with my straightening iron afterwards.

The removal takes me 1h15 usually, I use Acetone and Goo Gone. I mostly use acetone when I want to take out the wefts, and almost only Goo Gone when I want to clean my own hair of the Liquid Gold residus.
Then it takes me an hour to clean the wefts and another 50 mn to blowdry all that stuff. How weird, when I blowdry everyday it takes me like 15 mn. I guess when you're drying wefts "away from your hair" you just dry them more thoroughly and you spend more time because you really dry the weft part, not just the hair.
I had one really really bad surprise though after removal. I noticed a bald spot at the temple area, where I had a double wefts. It is a small bald spot, about half and inch by half and inch, but enough to totally scare, believe. When I saw this I felt sick

. I know that the double weft that was located in this area was kind of pulling my hair, I think I put too much LG, especially during touch-ups, and the other bad thing is that I develop nasty scalp problems, with whichever extensions method I use. I decided that I would use simple wefts, use less LG and stop scratching my hair!...

I hope it will get better at my next take-down, I like to be optimistic!...
After seeing Sherrie's demo on how to layer her extensions, I thought I would explain my only way… well I don't do "real" layering per say, because my own hair is much much shorter than my 22' extensions, I place my wefts super high, as close as I can to the part area. It looks so much more natural. Bellow is a picture to show you how high I place my top weft. I use my "invisible weft" technique, with a very small piece of tape under the weft and some LG on top, it is almost invisible. I trim last row or last 2 rows of extensions (the lowest rows), the last 5 inches let's say, with scissors, so it's doesn't look like it's cut straight. The other rows are shorter so they already look trimmed.
Oh, and one good news to finish: my natural hair is getting healthier –well, other than the bald spot!- it makes me so happy, so good about myself. It's not great yet, but I am less ashamed!
I just bought a new hair spray, from Sebastian, supposed to protect hair from humidity. Well it seems to work very well! I get this problem when the weather is very humid, my own hair tends to get wavy/curly and sticks out, and if it's really humid, the extensions get puffy. This spray seems to take care of both these issues, but it might be too soon to say. So if you guys have some good products to recommend to fight humidity, let me know! All right, I am done now!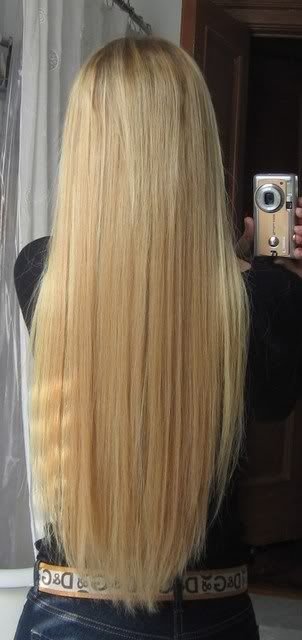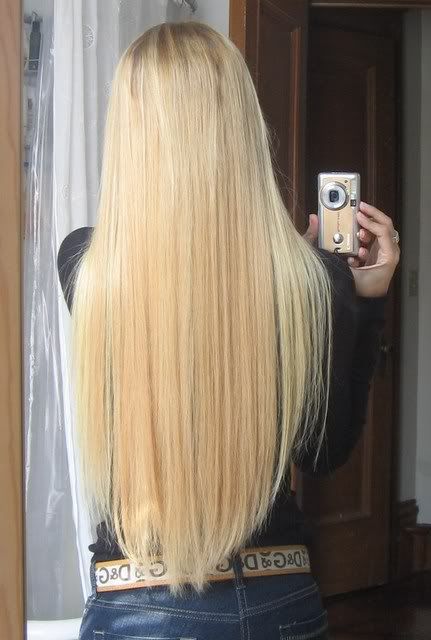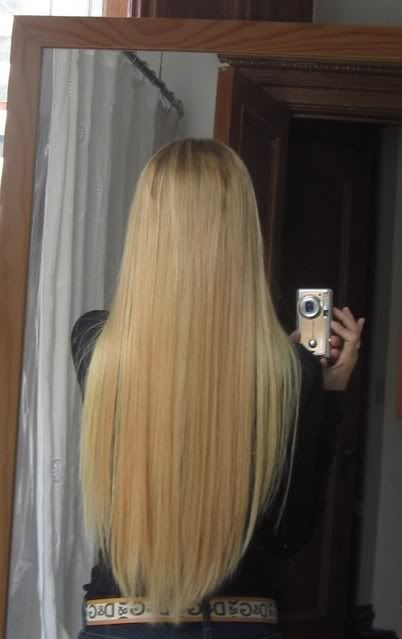 My natural hair: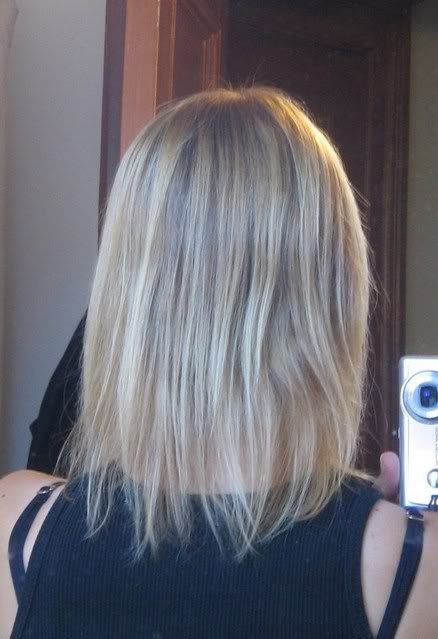 This is how high I put my top weft: